What is our place in the universe? Where do we sit between the past and future, between human and nature? How can wonder and awe give us hope and clarity?

The Grand Canyon makes billions of years of planetary history visible. It has been a sacred site for humanity since we first walked the land and is home to eleven native tribes, including the Havasupai, Hopi, Hualapai, Diné Navajo, Zuni, Yavapai-Apache, Paiute and Ute. 
At a pivotal moment in our short human history, Yo-Yo Ma visited this sacred American landscape to explore how its lessons about time, nature, and our relationship to both can help us shape a better future together. 
Introduction to the Land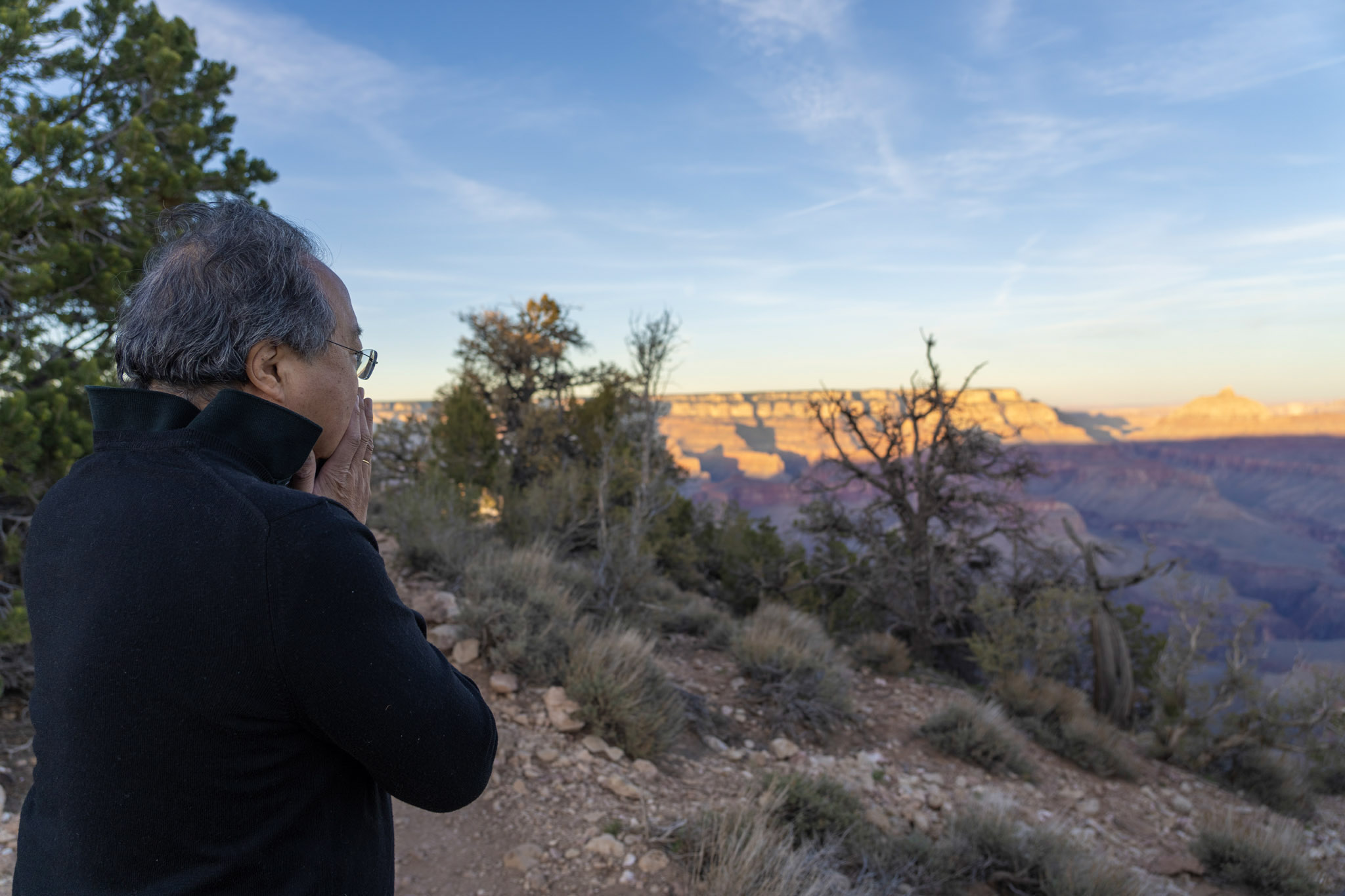 Havasupai writer and advocate Ophelia Watahomigie-Corliss welcomed Yo-Yo to the Colorado Plateau with words, blessings, and sage. Located in the Kaibab National Forest, Red Butte is a site sacred to the Havasupai nation, known as Wii'i Gdwiisa, "clenched fist mountain" and the "lungs of Mother Earth." Since the 1980s, it has been the site of a dispute over the Canyon uranium mine (recently renamed "Pinyon Plain Mine"), which threatens the only water supply for the Havasupai people as well as nearly 40 million people living in the American West. Jim Enote, Zuni Farmer and Native Thought Leader, guided Yo-Yo's first encounter with the Canyon in more than four decades, leaving him alone at Shoshone Point to listen and take in its scope and significance.
Night Sky Stories at Desert View Point and Watchtower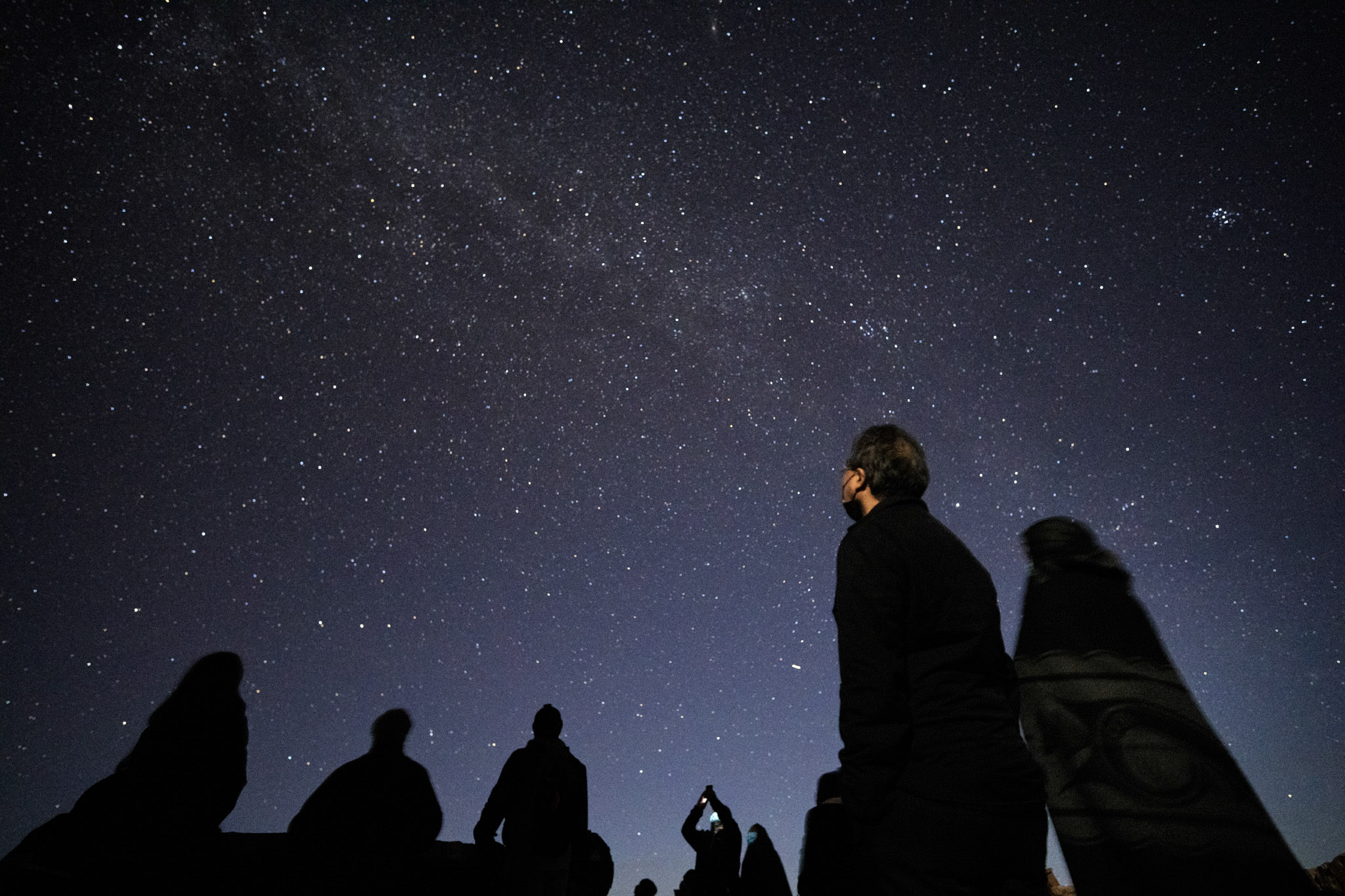 The Grand Canyon is one of the best places to see the stars and to understand our place in the universe. In partnership with the National Park's Dark Sky Program, Yo-Yo joined cultural elders, artists, and astronomers to share stories and music about our connection to the night sky. 
Into the Canyon on Qa
tt

Viì hēh ñ ñaa "Coyote Tail" Trail, known as Bright Angel Trail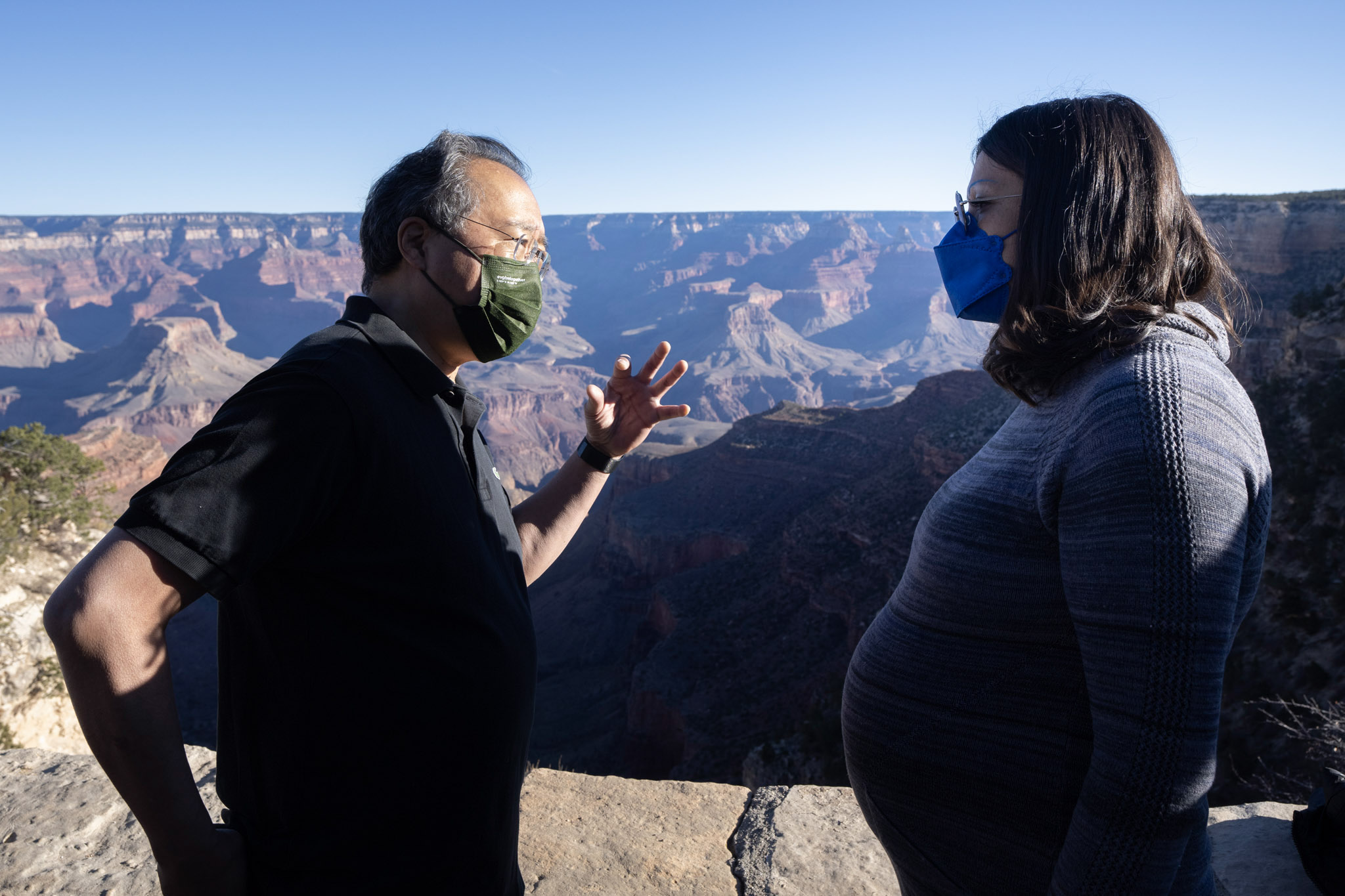 Guided by Ophelia Watahomigie-Corliss and NPS leaders, Yo-Yo journeyed below the rim to understand its geological and cultural layers and get a sense of scale and depth. Known to most park visitors as the Bright Angel Trail, this popular hiking trail is a traditional Havasupai path with petroglyphs that remind us of the generations that came before.
Exploring Big Time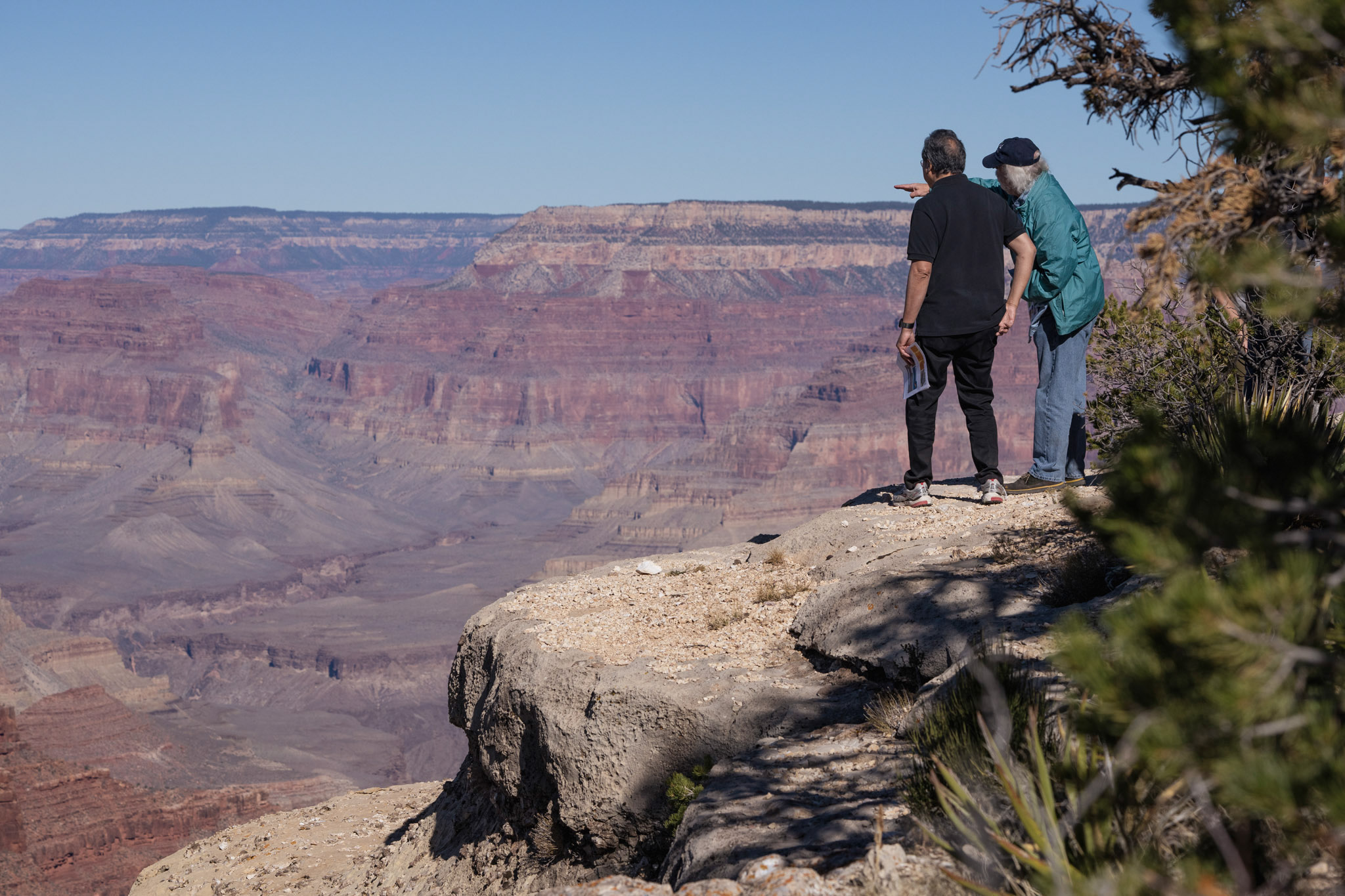 Yo-Yo joined NPS paleontologists and archaeologists for a tour of one of the Canyon's fossil beds, and an introduction to the geology and nearly 2 billion year history of the Canyon and Colorado Plateau. Together, they explored how an understanding of time on a geological scale can offer us perspective on our current moment.
Duet with Rock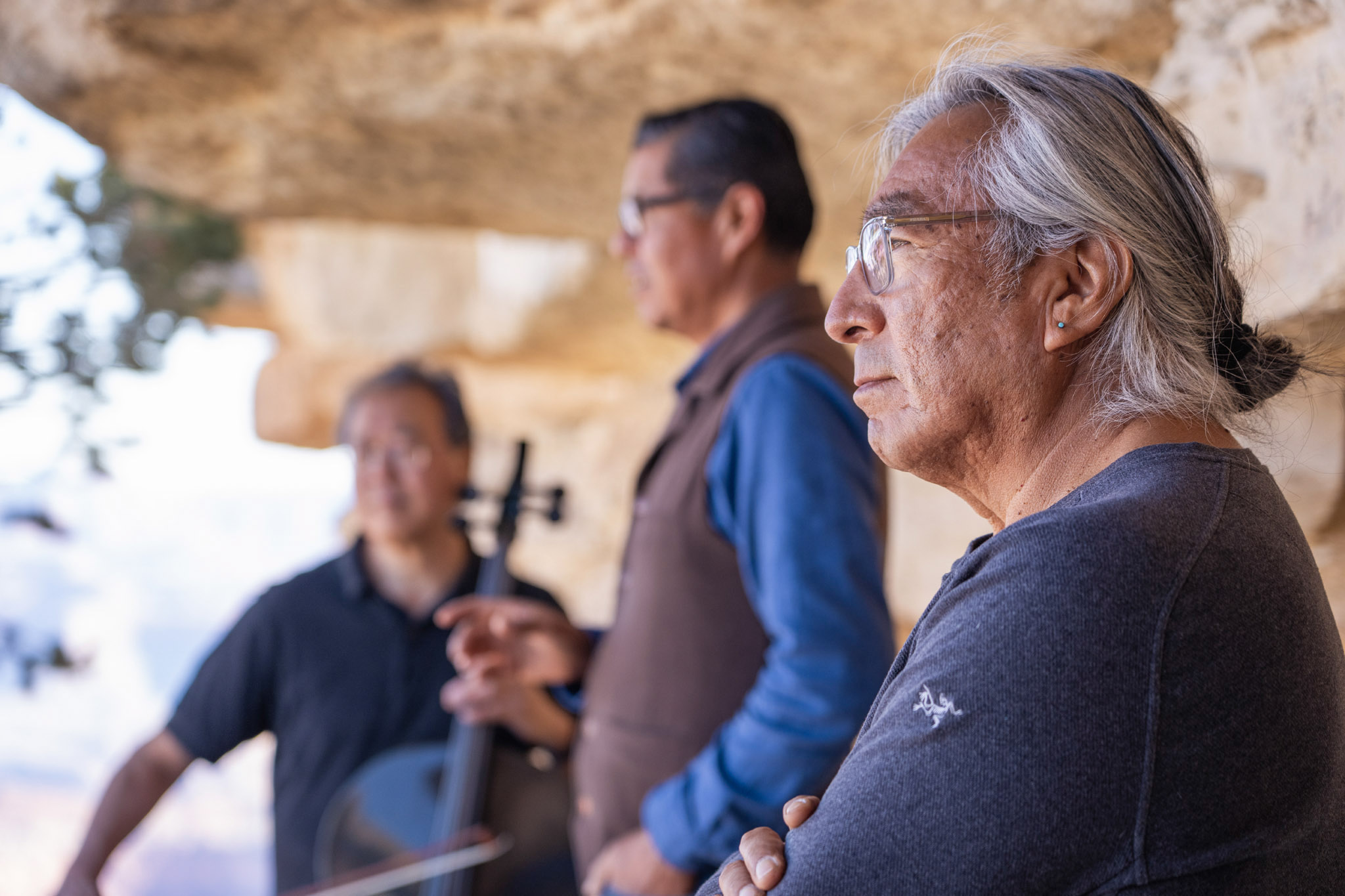 NPS archeologist and firefighter Jason Nez (Diné Navajo) and Jim Enote joined Yo-Yo in a rock cavern just under the rim at Hopi Point for an exploration of music and time.
Listening and Responding to the Plateau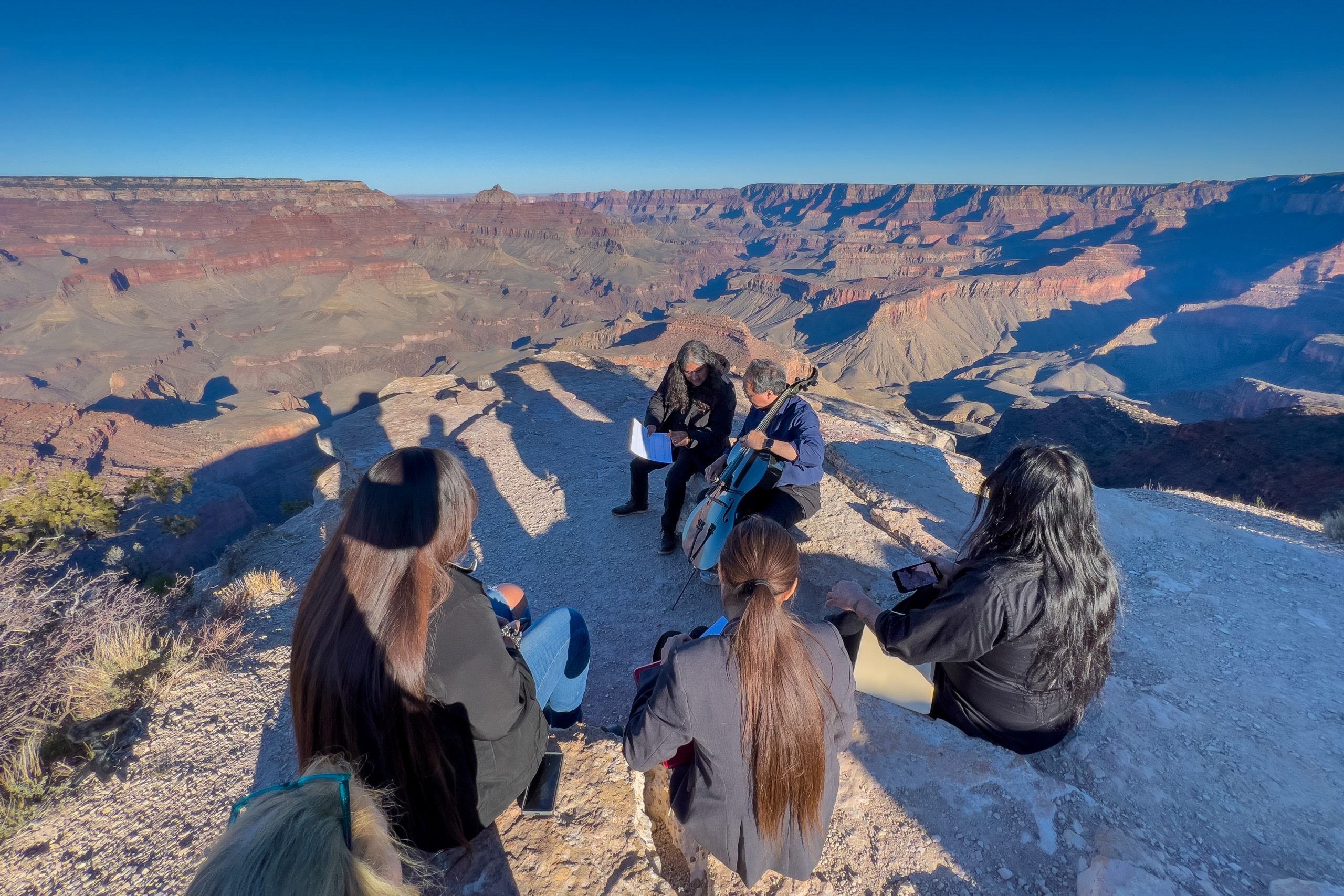 Yo-Yo Ma joined three generations of Native composers: Raven Chacon, his former student Michael Begay, and student composers Christina Shupla and Arika Morningstar, of the Grand Canyon Music Festival's Native American Composer Apprentice Project. Together, they explored what it means to listen to the world around you, and respond with human expression. The students shared how they want to shape the next generation of culture on behalf of their land and their communities.
Sunset Performance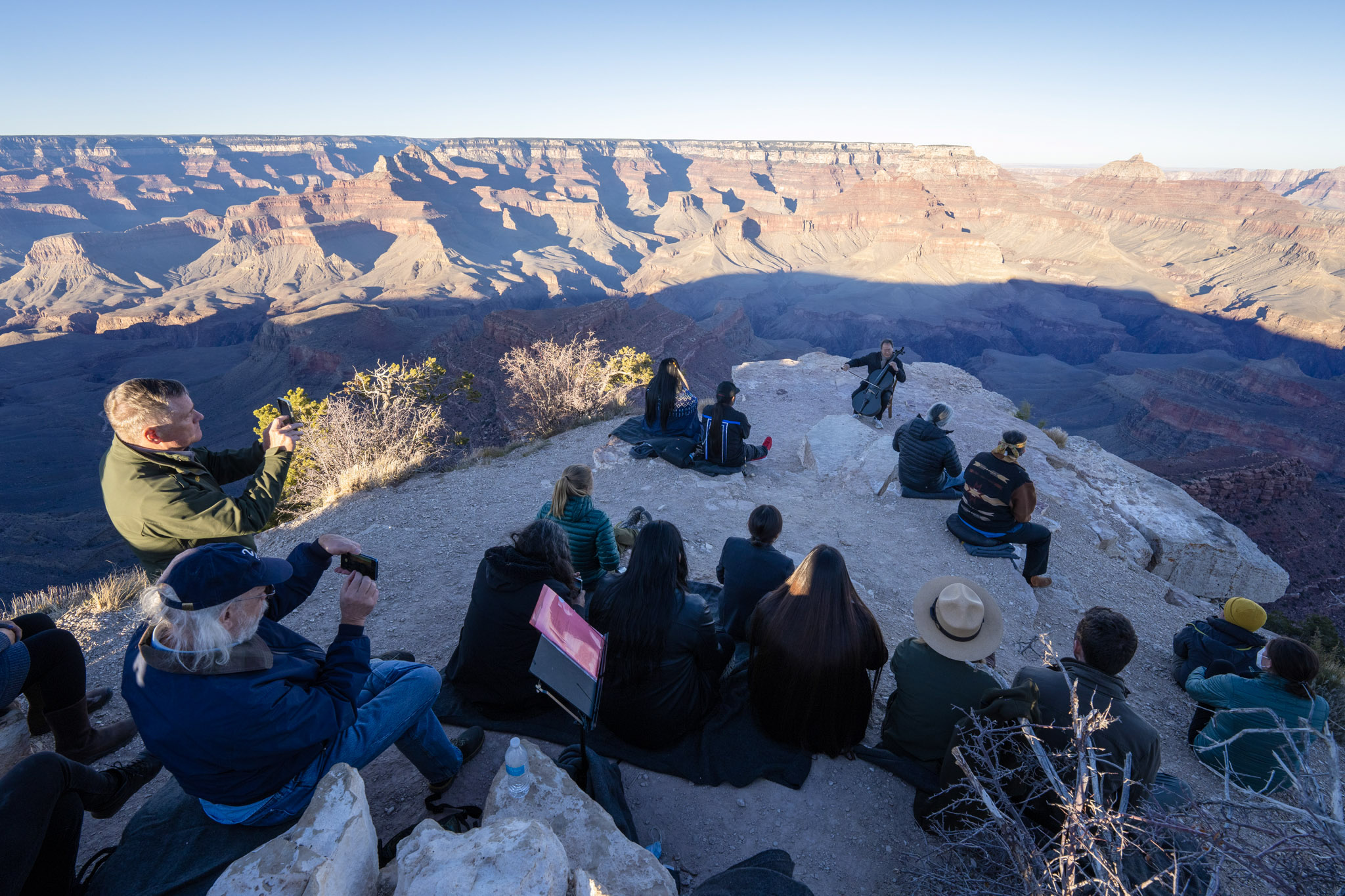 Jim Enote, Tewa/Hopi musician Ed Kabotie, Diné Navajo musician Steve Darden, Hualapai bird dancer Val Grover, and Hualapai bird singer Sterling Selana joined Yo-Yo to honor and celebrate the Canyon and its caretakers. Curated in partnership with the Museum of Northern Arizona.
Thanks to our partners
All Photography © Austin Mann